Shopping Basket
Your Basket is Empty
There was an error with PayPal
Click here to try again
Thank you for your business!
You should receive an order confirmation from Paypal shortly.
Exit Shopping Basket
Your Business Tagline Here
| | |
| --- | --- |
| Posted on 12 November, 2016 at 1:00 | |
Met een klam, krampachtig handje houdt Mees stevig de hand van mama vast. Ze staan te wachten aan de kade en zien in de verte de stoomboot naderen. Zou piet dit jaar weer naar hem toekomen? Hij kruipt wat dichter naar mama toe. Die gekke kleren, zwarte handschoenen en die onverwachte bewegingen. Een paar pepernoten lust hij wel, maar denk maar niet dat hij piet een hand gaat geven. Echt niet! Vanmorgen was Mees vroeg wakker. Papa en mama lagen nog te slapen en het was nog helemaal donker. Hij lag te woelen en te draaien in zijn bed. Slapen lukte niet meer. Zou hij dan eindelijk aankomen in Nederland vandaag? En mag hij dan zijn schoen zetten? Zou hij ook cadeautjes krijgen? En wanneer dan? De kinderen uit zijn klas waren afgelopen week drukker en wilder dan normaal. Mees houdt niet zo van die drukte, dat lawaai, het geduw en getrek aan elkaar. Hij vindt dat maar niks. Gisterenmiddag hebben ze met de groep de hele klas versierd. Overal hangen nu stoombootjes, zwarte pieten en Sinterklaasjes. Leuk om te zien, maar Mees wordt er een beetje onrustig van. Waarom is alles nu opeens anders? Hij houdt niet van 'anders'. Sinterklaas komt vandaag naar Nederland, leuk… of toch niet? Hij weet het eigenlijk niet zo goed.
5 December, de verjaardag van Sinterklaas, is een oude traditie en een leuk kinderfeest. Althans, dat hoort het te zijn. Want niet alle kinderen ervaren de Sinterklaasperiode als 'leuk'. Drukte, veranderingen, spanningen en onverwachte gebeurtenissen maken dat een kind deze periode zelfs als zeer stressvol kan ervaren. Vaak beseffen de volwassenen om het kind heen dit niet zo. Cadeautjes, pepernoten en snoepgoed, feestjes en gezelligheid… Omdat we onze kinderen dit zo gunnen, vergeten we wel eens dat de beleving van een kind heel anders kan zijn.
Sommige kinderen vertonen in de Sinterklaasperiode heel ander gedrag (negatief), dan we van ze gewend zijn.
Wil jij dat het Sinterklaasfeest een positieve ervaring wordt voor je kind? Lees dan onderstaande aandachtspunten en bereid je kind voor op een fantastisch kinderfeest!
- Let op de lichaamstaal van je kind. Is je kind bang? Zorg voor een vertrouwde en veilige omgeving. Benoem het gedrag en respecteer de keuzes van je kind. Wil het de pieten geen handje geven? Prima toch? Je kind kan al goed zijn of haar grenzen aangeven!
- Bereid je kind voor op de komst van Sinterklaas. Doe dit kort voordat hij aankomt, om vele slapeloze nachten te voorkomen. Vertel wat er gaat gebeuren.
- Wat? Wanneer? Waar? Hoe? Wie? Voor alle activiteiten geldt dat als deze vragen beantwoord zijn, er veel duidelijkheid is voor je kind. En duidelijkheid geeft veiligheid, want als je weet wat er gaat gebeuren dan ben je voorbereid, is het voorspelbaar. Je voorkomt hiermee stress bij je kind, doordat het 'onverwachte' verminderd is. Activiteiten om niet te vergeten:
- Aankomst Sinterklaas

- Schoen zetten (geef aan wanneer je kind de schoen mag zetten, zie aftelkalender)

- Rommelpiet op school (bereid kinderen die dit héél spannend vinden hierop voor)

- Sinterklaasviering op school

- Pakjesavond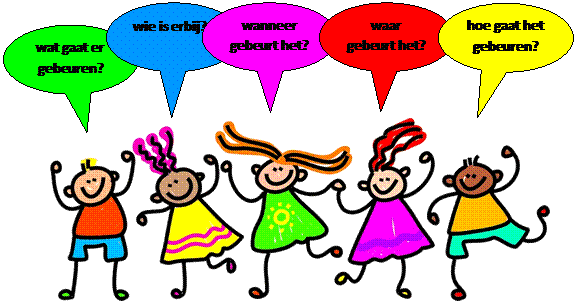 Maak een aftelkalender, zie onderstaand voorbeeld: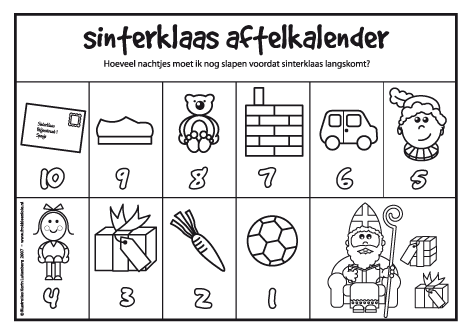 - Op zo'n aftelkalender kun je aangeven wanneer de schoen gezet mag worden en wanneer er bijzondere activiteiten zijn, bijvoorbeeld op school of op de sportclub. Als er weer een dag voorbij is, dan wordt het plaatje ingekleurd of een sticker geplakt.
- Houd thuis zoveel mogelijk vast aan de 'normale' structuur en rituelen. Denk aan het bedritueel (uitkleden, pyjama aan, tandenpoetsen, wassen, boekje lezen en slapen). Alle nieuwe indrukken kosten veel energie, dus kinderen hebben voldoende rust en slaap nodig hebben.
- Maak keuzes als je merkt dat het teveel wordt voor je kind. De meeste kinderen vieren Sinterklaas op meerdere plaatsen: thuis, bij opa en oma, bij familie, op school, op zwemles, bij de sportclub, op het werk van ouders enz. Prima, zolang je kind er blij van wordt en er geen 'last' van heeft. Let wederom op de lichaamstaal van je kind en pas het programma daar op aan.
- Schoen zetten: veel kinderen vinden het idee dat de pieten of Sinterklaas binnen kunnen komen heel vreemd en eng. Zet de schoen dan buiten bij de achterdeur of onder de brievenbus.
- Sinterklaasviering op school: kinderen met behoefte aan veel structuur vinden het prettig om een vaste taak te krijgen bij de Sinterklaasviering, bijv. cadeautjes uitdelen, staf van Sint vasthouden, taakje voor leerkracht doen enz. Overleg wat er mogelijk is op school.
- Het maken van een surprise kan voor veel strijd zorgen thuis. Maak samen met je kind een plan van aanpak en een tijdsplanning: wanneer wordt er aan gewerkt en wanneer moet het af zijn? Welke materialen zijn er nodig en wie doet wat? Je kind is verantwoordelijk voor de surprise en het proces. Frustraties zijn niet erg. Je kind leert door te zetten als het even niet lukt. Neem 'het probleem' niet over. Coach je kind door vragen te stellen waardoor hij/zij weer verder kan.
- Ga in gesprek met je kind. Leg het geen 'problemen' op, zoals: "Je vond het zeker te druk, hè?". Stel open vragen die beginnen met: wie, wat, hoe, wanneer, vertel eens... enz. en laat je kind verwoorden wat het fijn vindt en ook wat hij/ zij graag anders zou zien. Maak van een probleem een oplossing. Voorkom te allen tijde dat je jouw zorgen en problemen projecteert op je kind.
- En onthoud: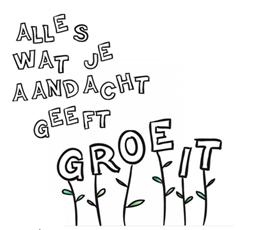 Dus benadruk het positieve gedrag en negeer het negatieve gedrag zoveel mogelijk!
Categories: None
/